Heliotrope Ventures is now hiring in Qatar with lucrative salaries for highly qualified graduates in business administration or economics.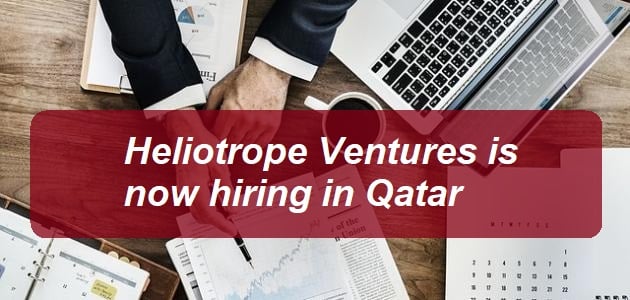 Heliotrope Ventures is now hiring in Qatar
What job is required?
Corporate Development Analyst
the required conditions:
To ensure success in the position candidates will have a Bachelor's Degree in finance, business administration, economics, or a related field.
A Master's degree or MBA will be treated preferentially.
Candidates will be expected to have knowledge of corporate finance principles and financial metrics evaluation. Proficiency in conducting industry research and competitive analysis is essential.
Strong understanding of financial modeling and experience in assessing financial statements, identifying risks, and evaluating financial performance will be required.
Required experience
Previous experience (Internship / 1-2 years) in a similar or identical role would be beneficial.
Required Skills:
Candidates should have excellent communication skills to effectively convey complex financial concepts and analysis, proficiency in collecting, analyzing, and interpreting data to support decision-making providing actionable insights.
Ability to assess investment opportunities, perform risk analysis, and conduct financial feasibility studies would be expected.
Strong familiarity with industry-specific software solutions, financial modeling tools and techniques to evaluate financial performance and investment opportunities.
How to apply?
Follow us for more jobs: